Hello Dreamer!
I want to share this personal story with you as I think it could be helpful to overcome this small business challenge.  I am currently faced with a common issue that almost every business owner is faced with at one time or another – a bad client. A bad client is one that is uncooperative, refuses to pay, or in some other way breaches their contract terms and conditions. That's why there are things in the world such as a surety bond which is a legally binding document that guarantees terms of a contract will be fulfilled. I'm sharing this as a lesson to those of you who may not yet have had this come up in your business.
This bad client was a referral from another long-term, good client so I was eager to assist him in opening his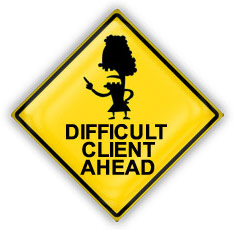 personal training studio. The client was completely naive about what it takes to open a business, let alone a physical location and initially thought he could get everything up and running within one week of beginning his consulting relationship with me. This was a completely unrealistic expectation of course given that he didn't have a plan, name, location, legal entity, business account, EIN, business license, vendors for his equipment, or anything else necessary to open his doors. He was also extremely averse to social media. Needless to say, his case was challenging.
I am not in the habit of lying to my clients just to make a buck. I give them realistic expectations and coach them through to the best decisions to move forward with their business. This bad client had a strong dislike for any consultative advice I gave him because it was not what he wanted to hear even if it was the truth. I don't just advise. I educate and I am gifted at training. This bad client was not coachable and chose to listen to ill-equipped family members who had no business acumen. Case in point, one of these family members advised him that his personal training studio should be a nonprofit so he could gain access to grant money. Even a layman should be aware that there is no charitable cause present in the traditional personal training studio, yet this is what I had to contend with. He also has another relative whom is a recently graduated criminal defense attorney and was advising him that he didn't need me because she could do everything. This same person had been "working on his business plan" for over 6 months with nothing to show by the client's own admission.
To make a long story shorter, I assisted the bad client through my direct consulting services, salesforce integration to let him communicate with clients easier and referral resources to get everything he needed and up and running within three months, pretty decent timing. Just before his doors were opened, he notified me that he felt he would no longer be able to pay my monthly retainer and requested termination of the contract. This was in his right as I allow a 30-day notice for contract termination and I had already made up my mind that I wanted to terminate him after his doors opened anyway because he was not coachable. All money isn't good money.
At this point, the bad client had about 15 days left in his current billing cycle in which I planned to wrap up all work on his website and social media files so I could turn things over nice and neat. I attempted to login to find out that he had stripped my access to everything so I could not complete the work. Furthermore, he had submitted a chargeback against my merchant processor for several monthly retainer fees citing a cause of "duplicate charge." Of course this was not only untrue but constitutes fraud and was a breach of contract.
Because I have a signed authorization and fully executed contract, I was able to fight the chargebacks but now this former bad client is disgruntled and launching an attack against me and my business. He is creating fake Facebook pages and email addresses to harass me with posts and emails claiming to "out" me as a fraud who scams small businesses. I will not respond directly to any of these because I am a professional; therefore, I will only send out professional communications addressing the business owner and/or business entity. I have not called him names or used any of the foul language I am currently being assaulted with. If you would prefer not to have to deal with foul language, then you could always check out something like this ringless voicemail, which means that you don't have to deal with them directly. However, it would be better to talk to them and try to solve the problem, but it's up to you on how you would deal with it.
I have been doing what I do for well over 15 years. I am so saturated in my local market that almost everybody who frequents the small business scene in Chicago either knows me or knows of me. To this end, I am not worried about this bad client's actions as my reputation speaks for itself and I manage it daily.
Takeaway Lessons to Manage a Bad Client
ALWAYS use a contract. Make sure that the contract is reviewed by your attorney for maximum effectiveness.
Make good customer service a priority.
Follow your gut. If your values and beliefs don't seem to mesh, it's okay to fire your bad client. All money isn't good money.
Document EVERYTHING! Even phone calls. Follow up phone calls with an email confirmation of what was discussed so you have proof.
Manage your reputation. You can set up a Google alert of your own name and business name to see what is being said about you. Respond positively and immediately to negative reviews.
Don't make rash business decisions out of emotion. Be practical and think long-term.
Be careful how you represent your brand. This former bad client is making himself look foolish.
Don't make enemies you can't afford. When you burn bridges, you never know who knows who.
Have you ever had to deal with a bad client?  How did you overcome this challenge?
I want to hear from you.  Please share your experience and thoughts on this post in the comments below.  And if you liked this post, please share it with your networks!